"I am looking for some new color recommendations. My grandma always talks about "summer" or "winter" people and that freaks me out and sounds like they are going to do me up like Mimi from the Drew Carey Show. I have always just bought whatever colors of nail polish/eye shadow/lipstick/etc that I thought were pretty and worn them. Lately I've been kind of bored with what I have but uninspired about what to buy. Can you give me some suggestions? I have light blond hair with a twinge of strawberry to it, blueish greenish eyes, and fair skin. Thanks!!"
-Saz, Colorado
Wait, you DON'T want to look like Mimi from Drew Carey?!?

But seriously. You have it absolutely right to go for the polar opposite of Mimi, because when it comes to beautiful blonde-shells like yourself, less is more. Summer, Winter, Spring or Fall you don't want to take away from your soft & feminine beauty. We want to slightly enhance your natural allure but not distract from it. There are a wide range of colors that will work well for you.
For an everyday non-makeup-makeup-look stick to ivory, kaki, taupe, gold, soft pink & light brown shades of shadow. Stay away from too much liquid liner (& liner in general). Try a little dark brown liner in your water & lash line and smudge it a bit with an angle brush to give it a more natural flow. I would also recommend trying a dark brown mascara instead of black for day. I love
Benefit's Bad Gal Brown
mascara.
Stila's "It Girl" palette
would be a great addition to your makeup wardrobe if you don't have many basic day shadows. Its on clearance for $10 (
Hollah!
)
Smashbox has a perfect "basic" quad on clearance right now at Sephora ($6!!) that is perfect for day looks.
Now Dahhhling, lets talk evening. There is a wide variety of ways you can this basic look to the next level for an evening out. Since you've said your eyes are blue/green my first instinct would be a fun and bold silver and violet smokey eye. It will really bring out the color in your eyes and compliment your skin tone. I recommend going for a soft nude lip and bronzed cheek to compliment the look and make your eyes stand out.You can be a lot more liberal with black eyeliner and mascara to give your eyes a more structured look. I adore this
5 Colour Design palette by Dior.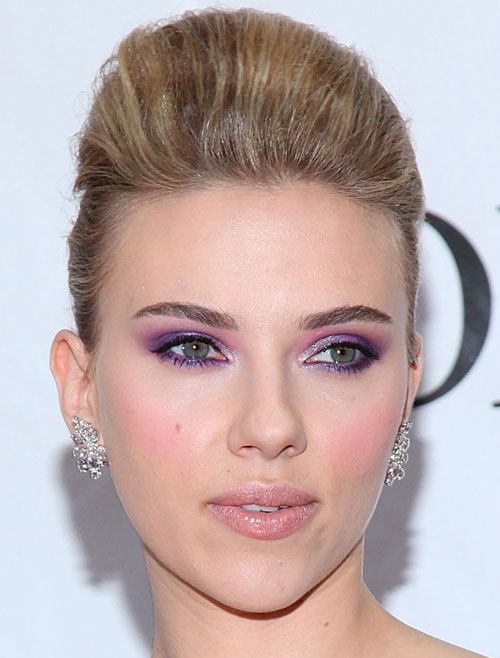 A great quick, classic and easy but sexy look on blondes is
a simple eye (ivory or gold shadow & liner) and bold lip.
Stila's Paint Your Pout Red palette
has everything you need to accomplish a variety of bold lips.
Oh and its on clearance ($15!) too. Do you love me? Good.
Now if you will excuse me I need to watch this:
I blame you, Saz.
Hey you! Wanna Ask Fancy a question? Submit one
here
:)